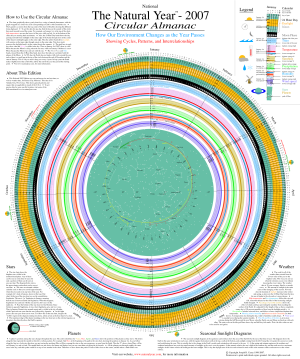 The Natural Year
Circular Almanac
We put the 'round' in year-round
Weather data, sunrise and set, moonrise, set and phase, tides, stars, and planet motions are vividly displayed in this printable chart. Patterns, cycles, and relationships of events in the natural world become clear. Illustrates many earth science principles.
The free, printable 2007 Annual and Perpetual Editions are available for download.
What is it?

It's a 24" by 28" full color easy-to-read chart
A calendar with weather and astronomy data
A unified view of data about the world around us
The circular format corresponds to Earth's orbit

What's so great about the circular format?

It allows a compact, readable display of much data
It highlights cycles, as one year flows into the next
Showing different items together brings out correlations
It makes a striking and beautiful display

What can it do for me?

See daily and yearly information at a glance
See cycles, patterns, and interrelationships

For example, immediately see:

How the amount of daylight changes throughout the year
When the next full moon is
How tides correlate with moon phases?
How high and low temperatures follow the length of the day
When is the sun in Sagittarius?
What does it show?
Natural events you can see and feel directly
15,000+ data points from NASA, the National Weather Service, The Naval Observatory, and other authoritative sources.
Daily weather averages


high temperature
low temperature
precipitation
high and low humidity
wind speed
sunshine percentage
tide ebb and flow

Daily astronomical info


sunrise and set
moonrise and set
moon phase
star chart
equinoxes and solstices
daylight savings time
Compare the perpetual and annual editions
Perpetual edition:

good for many years
moon phases and tides are generic

Annual edition:

shows days of week
shows planet paths
moon phases and tides for specific year
What's in this site?
Here are the key features of this site:
You might also enjoy . . .
Some other sites I've put together:
© 1998-2007 Joseph B. Casey